1.
Application
JBW-Z series Computer Automatic Pendulum Impact Testing Machine are mainly used to determine the anti-impact capability of metal materials under dynamic load. Carry out the functions of zero clearing and automatic return, capturing the value of lost impact energy and pendulum cycle by means of setting up with computer program, and the results can be monitored, stored and printed out. Control box or computer program control is alternative operating method. JB-W series impact testers are adopted by many institutes and high-tech enterprises.
2. Standards:
ASTM E23, ISO148-2006 and GB/T3038-2002, GB/229-2007.
3. Features:
3.1 Fully automatic, pendulum rising, impact, sample feeding, position, free releasing is realized automatically by easy PC mouse click;sample feeding, auto position the sample; high efficiency;
3.2 The impact of the blade with screw mounting
With two pendulums (big and small), PC software to display the energy loss, impact tenacity, rising angle, test average value etc. test data and result, also the curve display available; with calculation and report printing function. The dial scale can show test results too.
3.3 Safety pin guaranties the impact action, standard protection shell to avoid any accident.
3.4 Pendulum will automatically rising and ready for next impact action after specimen breakout.
4.
Main Technical Specifications:
Model

JBW-300Z

JBW-500Z

Display

computer automatic control

Min reading value

1 J

2J

Impact energy

150/300J

250/500J

The distance between the




pendulum shaft and impact point

750mm

800mm

Impact speed

5.2m/s

5.4 m/s

Pre-rising angle of the pendulum

150°

Specimen bearer span

40+0.2mm

Round angle of bearing jaw

R1.0-1.5mm

Round angle of impact blade

R2.0-2.5mm,( 55127535,R8mm)

Thickness of impact blade

16mm

Angle accuracy

0.1°

Standard specimen dimension

10mm×10mm×55mm

Sample box capacity

10 pcs

Sample centering way

Automatic face orientation

Power supply

380V, 50Hz , 3 wire and 4phrases

Dimensions (mm)

2124 x 600 x 1340

2200 ×650 ×1960

Net Weight (kg)

450

580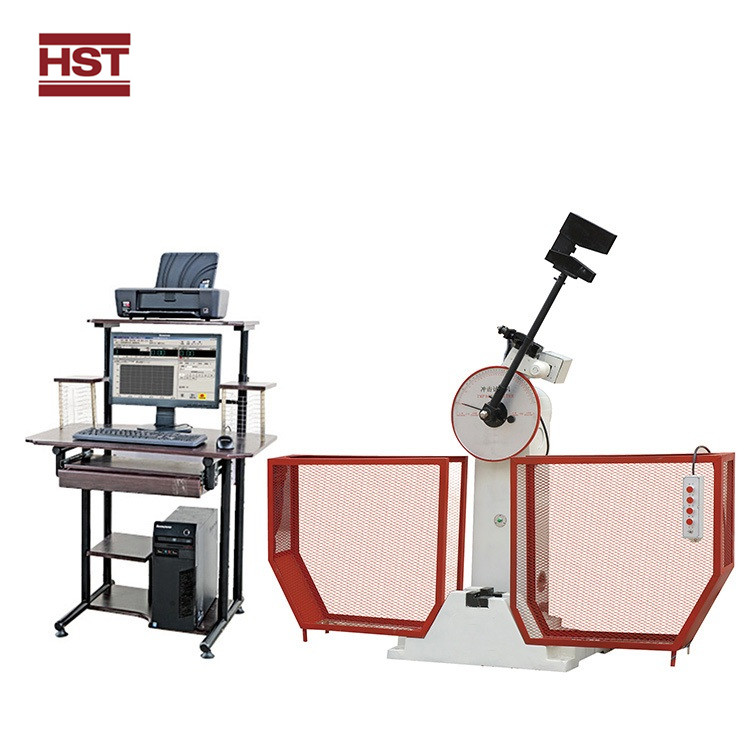 Featured Products:
Electronic Universal Testing Machine:
It is applicable for wide range of material for tension, compression, bending, shearing and low cycle test. Suitable for metal, rubber, plastic, spring, textile, and components testing. It is widely used in the corresponding industries, research and development, test institutes and training centers etc.
LCD Digital Display Universal Testing Machine ; Computer Control Utm ; High Low Temperature Utm ; Industry Test Equipment
Hydraulic Universal Testing Machine:
The machine adopts hydraulic loading, Computer Display, easy and convenient to operate. It is mainly used to execute the tension, compression, bending, flexural etc. test for metal materials. Attached with simple accessories and devices, it can be used to test wood, concrete, cement, rubber, and so on.It is very suitable for making test to different metal or nonmetal materials under high toughness and hardness against extreme big loading force.
Digital Display Hydraulic Utm ; Computer Control Screen Utm ; Hydraulic Pc Servo Utm ;Horizontal Tensile Testing Machine ; Single Space Tensile Tester
Impact Testing Machine :
Pendulum Charpy Impact Testing Machine is used to determine the impact toughness of metal materials under dynamic load according to ISO148, ASTM E23 and EN 10045. It is suitable for laboratory, metallurgy industry, machinery production, steel plant and other fields. There are three types of models: JB, JBS & JBW series.
Pendulum Impact Tester ; Digital Impact Testing Machine ;Computer Impact Testing Machine ; Low Temperature Chamber ; Uv Broaching Machine ; Specimen Projector ;Drop Impact Test Machine
Compression Testing Machine :
This compression testing machine mainly used for brick, cement, concrete and other material compressive strength testing. Widely used in metallurgy, building materials, space flight and aviation, colleges and universities, R&D institution lines. The test operation and data processing meets standard requirements.
Digital Compression Testing Machine ;Computer Compression Testing Machine ;Manhole Cover Compression Tester ; Box Compression Tester ; Paper Tube Compression Tester
Looking for ideal Computer Impact Testing Machine Manufacturer & supplier ? We have a wide selection at great prices to help you get creative. All the Automatic Impact Testing Equipment are quality guaranteed. We are China Origin Factory of Metal Impact Testing Machine . If you have any question, please feel free to contact us.
Product Categories : Impact Testing Machine > Computer Impact Testing Machine